Chances are you're aware of the importance of tire rotation and the benefits, but how often should you rotate your tires? The general suggestion for when to rotate tires is every 5,000 to 7,500 miles. Keep in mind, though, that this is just a suggestion — the right interval for your vehicle may differ. The technicians at our service center can shed light on the appropriate interval for your new or pre-owned Bentley. Read on to learn more about how many miles to rotate tires depending on your car's drivetrain.
How to Rotate Tires on FWD & RWD Vehicles
First, let's talk briefly about drivetrains. If a vehicle is front- or rear-wheel drive, it simply means the engine power is allocated to the front or rear wheels, respectively. This also means that the tires on the front or rear axle will wear down more quickly than the others, because they're receiving all of the engine power. To properly rotate the tires on a FWD or RWD vehicle, keep the following tips in mind:
Generally, tire rotation for FWD and RWD vehicles is recommended every 5,000 to 7,500 miles. Be sure to read your owner's manual for a more exact interval.
There's a specific tire rotation for FWD vehicles. Flip sides when moving the rear tires to the front. For example, the rear tire will go on the front left. When moving the front tires back, keep them on the same side.
The tire rotation pattern for RWD cars is a little different; the process above is inverted. Flip sides when moving the front tires to the back. However, when moving the rear tires forward, keep them on the same side.
How you drive affects when you'll need to have your car's tires rotated. For more information, contact our service center directly and speak with one of our knowledgeable technicians.
How to Rotate Tires on AWD Vehicles
Tire rotation is suggested for AWD vehicles every 3,000 to 5,000 miles. Usually, tire rotation is necessary once the tread variance exceeds 2/32 of an inch. Tire wear and tear is a little different for AWD vehicles, because each of the four wheels receive varying levels of engine power. This causes the tires to wear at different speeds. Again, it's important to check your owner's manual for an exact figure, or speak with a professional about what's best for your vehicle and your driving style.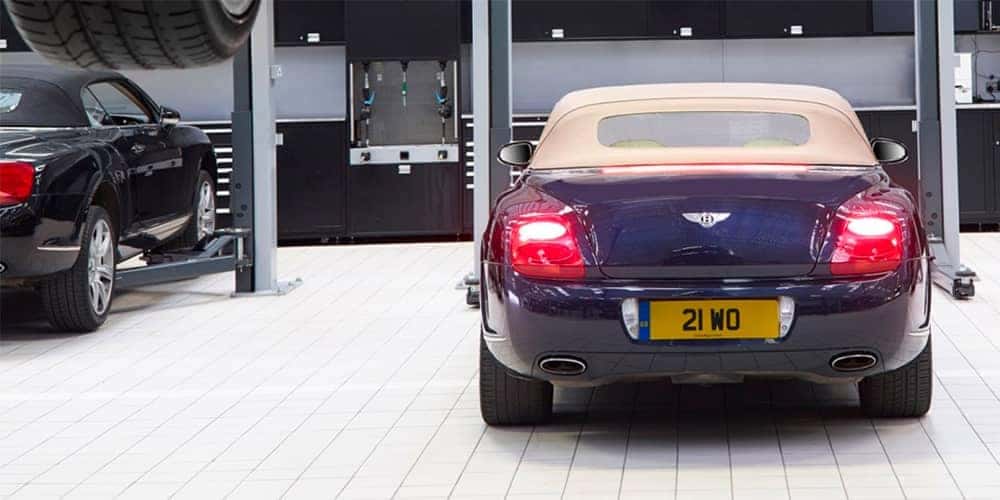 Why is Tire Rotation Important?
The purpose of a tire rotation is to prevent uneven tread wear, thus lengthening the life of your tires. Beyond that major benefit, though, tire rotation also promotes:
Greater traction in slippery or icy driving conditions
Less noise as you cruise Los Angeles roads
Relieves mechanical stress on the drivetrain
When you work a regular tire rotation into your maintenance plan, you can feel more confident traveling on Glendale roads, even in adverse weather conditions.
Bentley Pasadena is Your Source for Expert Tire Rotations!
To summarize: How often should you rotate your tires? Generally, every 5,000 to 7,500 miles is suggested for FWD and RWD vehicles, while 3,000 to 5,000 miles is suggested for AWD cars.
Can't remember the last time you scheduled a tire rotation, wheel alignment, or a transmission fluid check? Schedule a service visit near Arcadia! Before you schedule, browse our service specials for opportunities to save on routine service.
Service Specials From Bentley Pasadena
We are currently updating our Service Specials. Please check back soon.
More Auto Service Tips From Bentley Pasadena
Bentley has produced some of the finest vehicles on the road since 1919. With almost a century of auto experience under their belt, they know cars better than almost anyone else. However, even the most capable Bentley model still needs some care to keep it running smoothly. Fortunately, we're here to help in our service…

Almost every driver knows that vehicles need to have their oil changed. However, not every driver knows why. At Bentley Pasadena, we're here to clear up any misconceptions that drivers may have. Oil is the lifeblood of your engine. As your engine runs, the moving parts produce friction and heat. Normally this would cause the…

Whether you own a Bentley automobile or another brand of luxury vehicle, you know how important it is to maintain it. Having a regular maintenance schedule for your luxury vehicle ensures that you get continual peak performance from your automobile. Maintaining your vehicle on a routine basis is even more important when you drive a…