Introducing the Bentley Bentayga EWB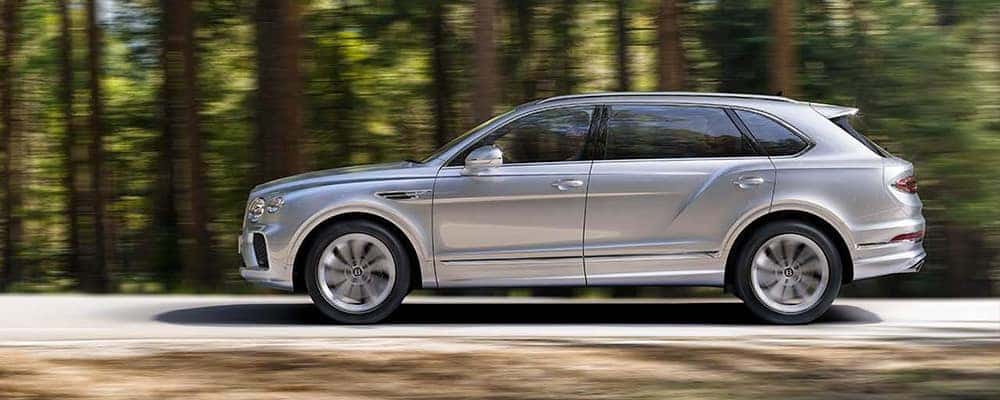 What's better than a Bentley Bentayga? Only a Bentley Bentayga with an extended wheelbase. The all-new Bentayga EWB is undeniably refined and incredibly powerful, and we think it's a model that no SUV buyer will want to overlook.
If you're considering the new Bentley Bentayga EWB, you'll want to get familiar with everything that this model has to offer. Our introductory guide has been designed to help you get started, so you can reserve a model with all the right finishing touches.
---
Bentley Bentayga EWB: A 7-Inch Stretch
Compared to the standard Bentley Bentayga, the Bentley Bentayga EWB has been extended by 7.0 inches. This brings its total length to 208.9 inches, and most of the increase will benefit those passengers who are lucky enough to be seated in the second row. In other words, the Bentayga EWB is perfect for those who don't mind being chauffeured from time to time.
The original Bentayga has been offered with two seating configurations: a rear bench and a set of second-row captain's chairs. Now, with the introduction of the Bentayga EWB, there's one more exciting option to consider: the Airline Seat—inspired by the world's finest private jets. It offers the ability to recline up to 40 degrees, as well as postural adjustment settings that can keep you comfortable on longer drives. For a closer look, take advantage of our guide to the latest Bentayga interior.
As with the original Bentayga, the Bentayga EWB comes decked out in the finest hides and finishes available. The latest variant of Bentley's SUV also continues to offer features like a Rear Entertainment System, complete with two 10.2-inch displays.12- and 20-speaker audio systems are available, and advanced climate control systems ensure that you'll feel at home wherever you go.
Bentley Bentayga EWB: Power to Spare
The Bentley Bentayga EWB will only be offered with one engine: a 4.0-liter V8 with twin turbochargers that can move you forward with 568 lb-ft of torque. With a top speed of 180 miles per hour and a 0–60 time of 4.5 seconds, it will change your Los Angeles and Glendale drives forever. Although it has more than enough power to thrill those seated in the rear row, we could hardly blame you if you were eager to spend some time behind the wheel.
Reserve Your Bentayga EWB with Bentley Pasadena
If you're based anywhere near Pasadena or Burbank, then Bentley Pasadena is your source for the new Bentayga EWB. Get in touch with our team to make an appointment, explore all of the options offered by this model, and configure an SUV that will exceed your wildest expectations. Ready to get started now? Reserve your Bentayga today.
More From Bentley Pasadena