2020 Bentley Bentayga Hybrid MPG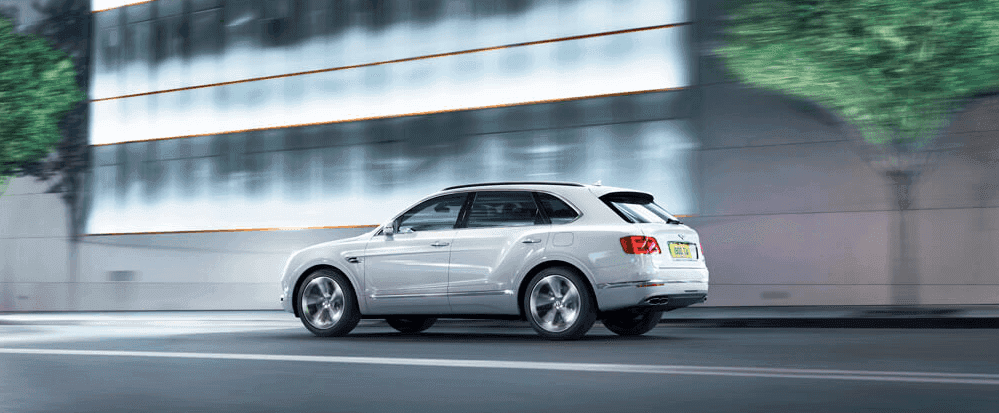 ---
---
The 2020 Bentley Bentayga Hybrid mpg reaches up to 45 miles-per-gallon-equivalent when the engine and electric motor are working in concert. However, excellent fuel economy isn't the only reason to celebrate the long-awaited Bentley Bentayga Hybrid release date, now finally in our rearview mirrors. Explore this Bentley SUV's plug-in hybrid performance capabilities below, and then find out how you can see the new Bentayga range for yourself.
A Closer Look at the Bentley Bentayga Engine and Motors
The 2020 Bentley Bentayga Hybrid engine is a potent 3.0-liter V6. Together with its 17-kW-hr battery, a permanent magnet synchronous motor, the Bentayga Hybrid generates up to 443 hp and 516 lb-ft of torque. These are impressive specifications, but the new Bentley SUV's plug-in hybrid technologies go even further to revolutionize your Los Angeles-area drives:
Electric Motor Specifications: The 94-KW electric motor, on its own, generates 126 hp and 258 lb-ft of torque, making it an impressive inclusion in its own right.
An All-Electric Driving Mode: It's also important to note that the Bentley SUV's electric power source is capable of propelling the vehicle all on its own for miles, where the precise distance is dependent on how you drive.
Bentayga Hybrid 0-60 Speed: The Bentayga Hybrid has achieved a 0-60 time as low as 5.2 seconds, along with a top speed of 158 mph.
Intelligent Hybrid Engineering: The engineers who built this vehicle have designed an intelligent accelerator pedal that will show you exactly what power source you're drawing on. Intelligent braking and coasting capabilities maximize your range while ensuring superior performance.
The Bentley Bentayga Hybrid mpg numbers given above reflect its hybrid driving mode, when both the electric and gasoline power sources are operating together. Bentley has independently estimated that the Bentayga Hybrid mpg reaches up to 28 mpg highway, even when the battery is depleted.
Your Bentley Bentayga Hybrid is Here at Bentley Pasadena
A closer look at the Bentley Bentayga Hybrid could be just around the corner. Start exploring our new Bentayga inventory today, and find out how to lower your Bentley Bentayga Hybrid cost by taking advantage of our exciting leasing offers. We're easy to reach from anywhere near Glendale or Burbank, and we're equally happy to work with you online.
Interested in the latest model? Take an in-depth look at the 2021 Bentley Bentayga interior today.
Learn More with Bentley Pasadena
The Bentley Bentayga is a stunning midsize crossover that exemplifies luxury on the Los Angeles roads, so when it's time to replace your tires, it's important to get every detail right. At Bentley Pasadena, we're here to guide you through the process of finding your Bentley Bentayga tire size and shopping for a great replacement set….

Drivers from Los Angeles to Glendale are looking for 2021 Bentley Bentayga review information. Here at Bentley Pasadena, we're your local source for new vehicles, review information and vehicle service. Whether you're looking for Bentley Bentayga Diesel reviews or information on other features, Bentley Pasadena is here to help. Read on to learn more about the Bentayga….

As one of the leading luxury car manufacturers in the world, Bentley has always been on the cutting-edge of innovation – and the latest Bentley Hybrid and Electric systems are prime examples. Though Bentley has always been known for its unparalleled style and uncompromising performance, the brand has made the goal of eliminating all…