Find Your Flair with Rich Bentley Colors
Are you trying to access the full flexibility that the dynamic Bentley lineup has to offer? While Bentley is perhaps best known for its undeniable technological prowess and performance, its head-turning charisma has made it a household name all over the world. This charisma is especially apparent when one looks to the range of Bentley colors, which includes more than 100 exterior colors and finishes. No matter what sense of style sets you apart, you can rest assured that it's easy to match your flair. You can even pair your breath-taking exterior with decadent interior veneers, luxurious hide colors, and a range of duo-tone options. Find the perfect finish for your new Bentley at Bentley Pasadena, and remember, you don't need to be a celebrity Bentley owner to make a unique impression wherever you go.
Bentley Continental GT Colors
The bold New Continental with its powerful 6.0L, twin-turbocharged W12 engine and truly stunning design language is unmatched in its class. Four major models, including the exquisite V8 convertible, afford you a presence that's undeniable as you tour from Glendale to Burbank. Whether you decide on a calm confidence or a brash panache, you have every option open to you with an unmatched range of luxurious colors. Although you can choose any color from the list, Bentley recommends the following:
Deep Flame: This striking and iconic pairing combines Dragon Red II paint and a Hotspur/Beluga color-split interior.
Storm Noir: This blacked-out Bentley Continental shines with Beluga for both the interior and the exterior.
Timber Rush: For an iconic British vehicle, a paint like British Racing Green 4 just makes sense! Here, it's paired with a color-split Linen and Cumbrian Green interior.
Bentley Flying Spur Colors
With all of the Bentley lineup, you have access to all 100 stunning colors and finishes, and with the sharp lines and intricate dealing of the New Flying Spur, you can truly showcase each one. This newest addition to the Bentley lineup brings dominance through the heart of downtown and on the most remote highways. And thanks to our service center, you'll have access to all the latest technologies and stylistic expressions you desire. Read below for our favorite looks for the new Flying Spur:
Cool Harmony: This Bentley color scheme includes the Meteor exterior paint and a color-split interior with Linen and Brunel.
Fire and Ice: This configuration combines a solid Glacier White exterior with a color-split Linen and Cricket Ball interior.
Alter Ego: With this specification, you'll receive a Damson exterior and a color-split Magnolia/Damson interior.
Tuscan: Verdant exterior paint is the perfect complement to this model's lush Linen and Cumbrian Green interior.
Check out the latest Bentley Flying Spur pricing information to learn more about your options.
Bentley Bentayga Colors
The Bentley SUV that redefines crossover, the Bentayga, brings optimization to new heights. Six Bentayga configurations, including a diesel and hybrid option, mean you can form-fit this road-ready powerhouse to any lifestyle. Consider these recommended Bentley SUV colors as you build your color scheme:
Cool Slate: This sophisticated pairing combines a Hallmark exterior with a color-split Portland/Burnt Oak interior.
Purple Shade: Stand out with a dark Damson exterior and a Linen/Damson color-split interior.
Oceanica: With a Sequin Blue exterior and a Beluga interior, you'll feel at home wherever you go.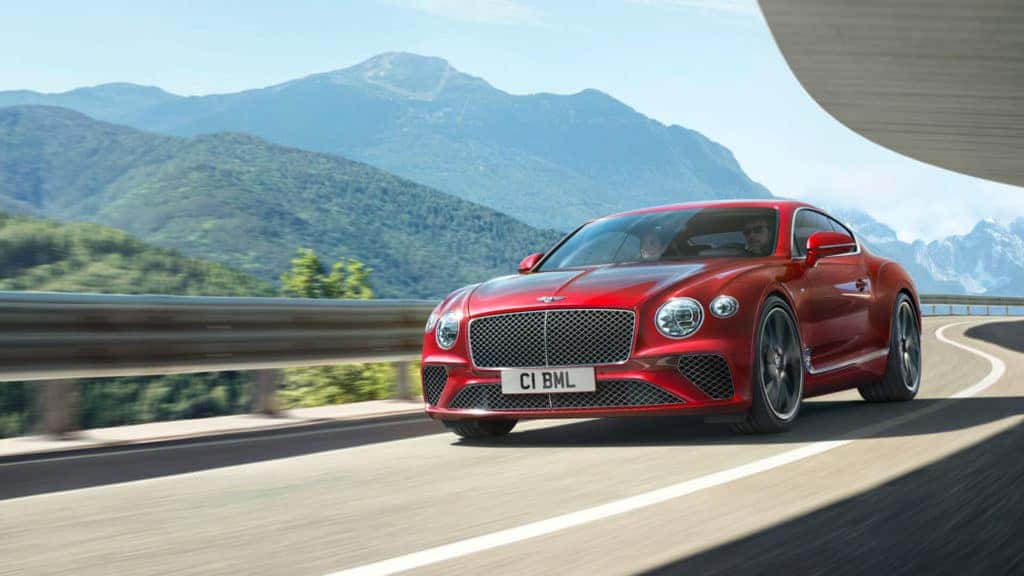 The Full Range of Bentley Colors
As we noted from the outset, the Bentley color schemes that you see above are only suggestions to get you started. You'll be able to choose from more than 100 exterior paints—and an equally impressive range of hides and veneers—when you're configuring a Bentley of your own. If you're ready to custom-order a Bentley, you'll want to be aware of all your options. We're one step ahead, so we've listed them all for you right here:
Exterior Bentley Colors
Black: Anthracite, Anthracite Satin, Beluga, Black Crystal, Onyx, Royal Ebony, Spectre, Storm Grey, Titan Grey
Blue: Moroccan Blue, Neptune, Oxford Blue, Peacock, Portofino, Sequin Blue, Silverlake, Thunder, Windsor Blue
Golds, Oranges, & Browns: Arabica, Bronze, Brodgar, Camel, Dark Cashmere, Havana, Khamun, Light Gazelle, Orange Flame, Pale Brodgar, Rose Gold, Sunburst Gold
Greens: Alpine Green, Apple Green, Barnato, British Racing Green 4, Cumbrian Green, Midnight Emerald, Radium, Verdant, Veridian
Reds & Purples: Azure Purple, Black Velvet, Burgundy, Candy Red, Cricket Ball, Claret, Damson, Dragon Red II, Magenta, St. James Red
Silvers: Breeze, Extreme Silver, Extreme Silver Satin, Cambrian Grey, Granite, Hallmark, Ice, Light Grey Satin, Magnetic, Moonbeam, Silver Frost, Silver Storm, Silver Tempest, Tungsten
Whites & Beiges: Arctica, Dove Grey, Ghost White, Glacier White, Julep, Magnolia, Monaco Yellow, Old English White, Patina, Snow Quartz, Special Magnolia, White Sand, White Satin
Duo Tones (Primary/Secondary): Black Crystal/Cricket Ball, Black Crystal/Ice, Black Sapphire/Sequin Blue, Brodgar/Pale Brodgar, Damson/Silver Storm, Magnetic/Rose Gold, Moroccan Blue/Moonbeam, Onyx/Orange Flame, Orange Flame/Magnolia, Spectre/Extreme Silver, Verdant/White Sand, Windsor Blue/Light Windsor Blue, Cricket Ball/Black Crystal, Extreme Silver/Spectre, Ice/Black Crystal, Light Windsor Blue/Windsor Blue, Magnolia/Orange Flame, Moonbeam/Moroccan Blue, Orange Flame/Onyx, Pale Brodgar/Brodgar, Rose Gold/Magnetic, Sequin Blue/Black Sapphire, Silver Storm/Damson, White Sand/Verdant.
The best way to explore the full range of Bentley colors is to reserve your new model with our team! We'll be able to pull up any combination and show you exactly how your model will look when it arrives in Pasadena, CA.
Discover True Luxury Today with Bentley Pasadena
No matter which of these high-end performance vehicles you choose, you'll have the richest range of exterior and interior design selections on the market. Stop by to talk with our experts in Pasadena to find the right arrangement tailored to you, and contact us today to get behind the wheel of your favorite Bentley motor car or SUV.